An Honest Review: Taco Bell's Triple Double Crunchwrap
An Honest Review: Taco Bell's Triple Double Crunchwrap
An Honest Review: Taco Bell's Triple Double Crunchwrap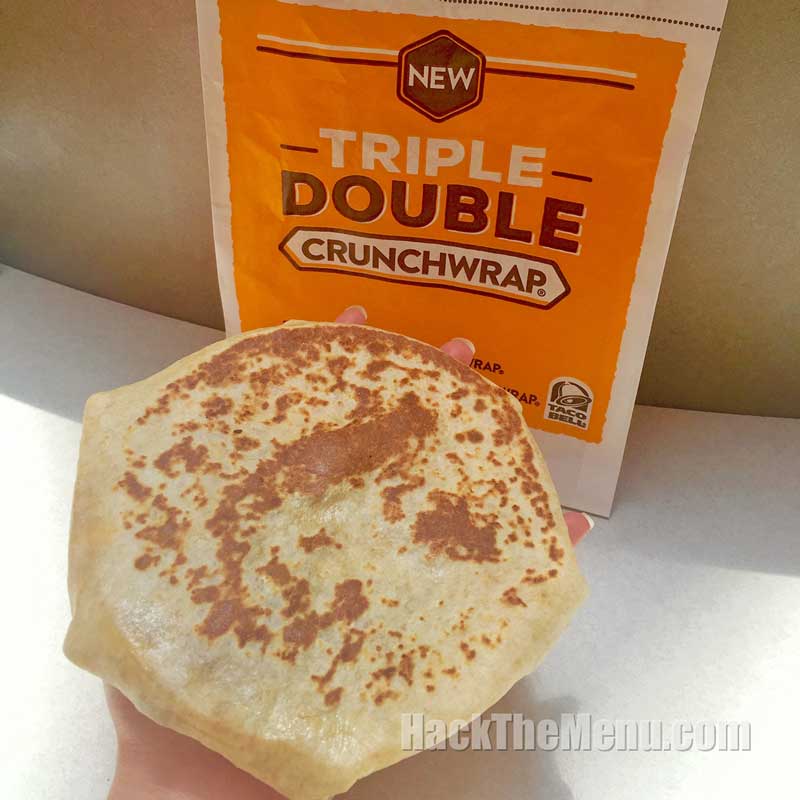 The universe is 14 billion years old. The Earth 4 billion. Modern humans 200,000. And let me say, in all seriousness, I feel truly blessed to exist contemporaneously with Taco Bell's Triple Double Crunchwrap.
This ooey-gooey pocket of perfection, costing only $3.49, was added to the Taco Bell menu on July 14. (Prices may vary based on location.) Weighing in at the equivalent of what I'd assume a small child weighs, the Triple Double Crunchwrap is 700-calories and well worth the splurge. I suppose this is what they're referring to when they say, "Live Más."
The Mexican food chain's newest product is identical to the Crunchwrap Supreme we've all come to know and love but with a second layer of beef and cheese and an additional tostada shell. There is also a spicy version of the Crunchwrap now available, which includes jalapeños and hot ranch dressing.
As a self-proclaimed Crunchwrap aficionado, I will be the first to admit the original Crunchwrap Supreme is rather hit or miss. Occasionally, you'll get one where all the meat and cheese is clumped to one side, leaving you with a solid 5 to 7 bites of nothing but dry lettuce, tomatoes and tortilla. I know you all know what I'm talking about. The Triple Double Crunchwrap completely eliminates this issue. With twice the meat and cheese, every bite is overflowing with all of your favorite fixings.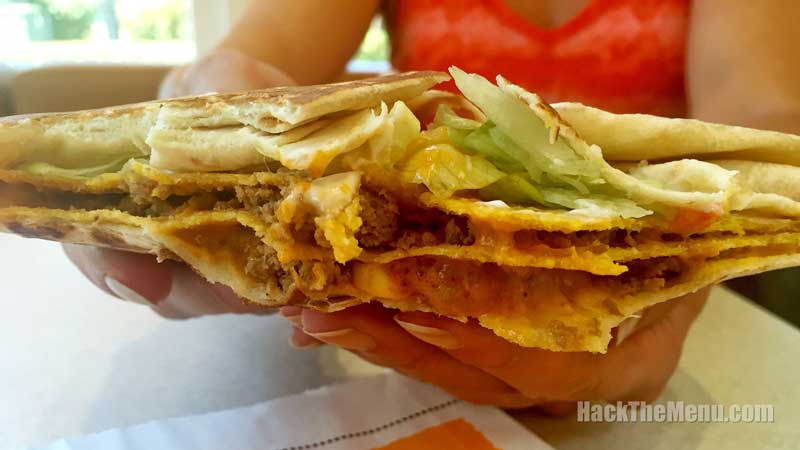 The Triple Double Crunchwrap has the same delicious taste as the Crunchwrap Supreme, so there's not much news to report on that front. However, that may be a good thing as the Crunchwrap has been a Taco Bell staple since its initial release in 2005. If it ain't broke, don't fix it, right?
However, the added ingredients do make for a slightly messier meal. The sheer weight of the beefy behemoth caused the tomatoes and lettuce to start falling out at the folds. At one point, there was even a steady flow of nacho cheese lava pouring out of the tortilla, but, hey, I'm not complaining.
Take my advice and head on over to your nearest Taco Bell for the Triple Double Crunchwrap for double the meat, double the cheese, double the tostada shell, and most importantly, double the happiness.
Would I recommend? Yeah? Nah? Yeah
Review Rating:

5

/ 5
"
An Honest Review: Taco Bell's Triple Double Crunchwrap
" by
Annamarie Higley
, written on July 18, 2016