Free Extras | In-N-Out Secret Menu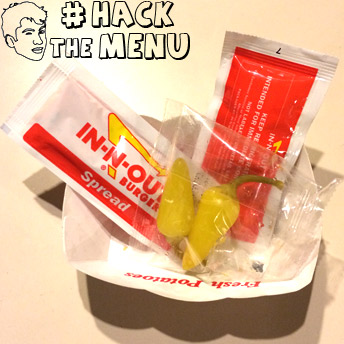 Availability:
All Locations
The Secret:
Free Extra Toppings, Special Spread Packets, & Hot Peppers
Popularity:
Medium-High

Free Extras

Rating:

5

Stars
Free Extras Price:
FREE
Free Extras - How to Order:
Ask for Special Spread Packets or Hot Pepper Packets when you pick up your order. Or if you want them put on your burger for you, ask for extra of any of the normal fixin's when you place your order.
*Not all items shown are available or authorized at every restaurant. Price and participation may vary.
In-N-Out Free Extras
The In-N-Out Secret Menu is very expansive and always a great bargain. But are there any completely free upgrades? The answer is yes, there definitely are. You are welcome to ask for extra lettuce, tomato, and onion on any burger. And if you want to get a little more adventurous, feel free to ask for a Mustard Grilled Patty, hot peppers, or even Whole Grilled Onions. And if you want to try a burger that has a little bit of everything, then you have to check out In-N-Out's Animal Style Burger. You can even ask for In-N-Out Special Spread Packets or Hot Pepper Packets on the side. The best part of all is that these things are COMPLETELY FREE to add to your burger!
Complete List of

In-N-Out

Secret Menu Items
---