Chicken Cordon Bleu McMuffin | McDonalds Secret Menu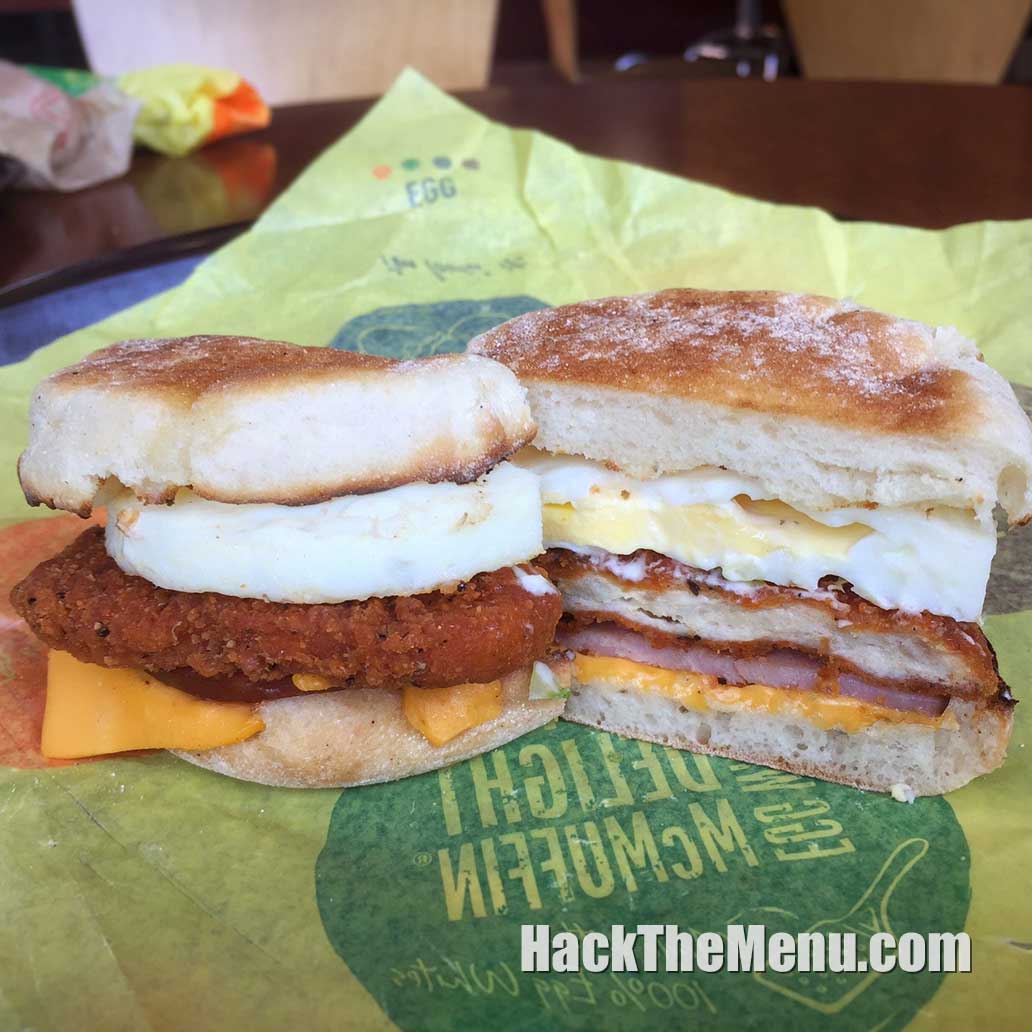 Availability:
All Locations
The Secret:
Fried Chicken, Canadian Bacon, and cheese...sounds like Chicken Cordon Bleu. But this one's better because it's got a round egg and served between a crisp English muffin.
Popularity:
High

Chicken Cordon Bleu McMuffin

Rating:

5

Stars
Chicken Cordon Bleu McMuffin Price:
$4.69
Chicken Cordon Bleu McMuffin - How to Order:
Order an Egg McMuffin with an original McChicken patty or Spicy McChicken patty added inside.
*Not all items shown are available or authorized at every restaurant. Price and participation may vary.
McDonalds Chicken Cordon Bleu McMuffin
The McDonalds brunch Chicken Cordon Bleu McMuffin can be created if you know the secret menu before ordering. Brunch at McDonalds? Yes... that is if you know how to hack the new McDonalds All Day Breakfast Secret Menu! The Chicken Cordon Bleu McMuffin takes advantage of both the breakfast menu and the value menu. Check out the McDonalds Lovin' Value Menu Prices as well as the McDonalds Breakfast Menu Prices to see what else you can come up with. In our case, we came up with a spicy edition of Chicken Cordon Bleu! You've got all the ingredients in Chicken Cordon Bleu: fried chicken, Canadian Bacon, and cheese. Now what could make this sandwich even better than the original? How about we top it off with a fried egg - breakfast and lunch in perfect union! That's the McDonalds brunch Chicken Cordon Bleu secret menu hack.
One other thing to note is that you can probably get the same sandwich, but on their regular hamburger bun. We chose to enjoy this creation on the English Muffin and recommend that version, but it really comes down to personal preference. Either way, we think you will enjoy the Chicken Cordon Bleu menu hack specially created from the new #HackTheMenu secret menu for McDonalds All Day Breakfast.
Complete List of

McDonalds

Secret Menu Items
---