Subway Old Cut
Old Cut | Subway Secret Menu
Subway Old Cut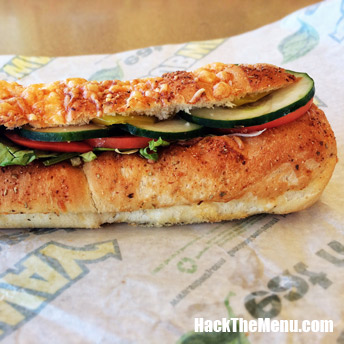 | | |
| --- | --- |
| Availability: | Most Locations |
| The Secret: | Bread is dug out from the top like a trench instead of being sliced open from the side |
| Popularity: | Medium |
| Old Cut Price: | Normally Priced Subs |
| Old Cut - How to Order: | Ask the Subway sandwich artist to cut your bread "old style". Explain that it means that they cut into from the top instead of the side. This may be difficult for employees who are less experienced. |
*Not all items shown are available or authorized at every restaurant. Price and participation may vary.
Subway Old Cut
T
he
Subway Old Cut
was once the only way that Subway cut their sandwiches. Now, that was over 10 years ago that they stopped cutting their sandwiches this way. However, you may get lucky and find a Subway artisan who knows this secret menu trick and is willing to cut your sub the Old Cut way. If you happen to find that special person, you sure as heck better stick with them as they show you how a Subway sandwich from their secret menu should be made. There's just something about the way the old cut holds in the ingredients that brightens your whole experience and makes everything taste that much better. So, try a
Subway Old Cut
today and see what you've been missing. If the Subway Secret Menu isn't enough for you, you may also enjoy the
McDonalds Secret Menu
, the
Starbucks Secret Menu
, and the
Jamba Juice Secret Menu
. All of these great milkshakes, frappuccinos, and smoothies from these restaurants would be a great compliment or sweet dessert for your Subway sandwich!
Complete List of Subway Secret Menu Items
---