Dirty Orgasm | Jamba Juice Secret Menu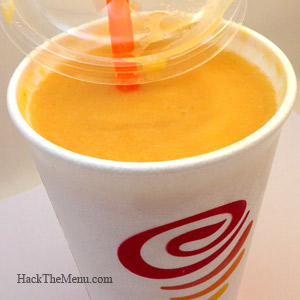 Availability:
All Locations
The Secret:
12 oz. Peach Juice
1 Scoop Pineapple Sherbet
1 Scoop Orange Sherbet
2 Scoops of Peaches
1 Scoop of Strawberries
Popularity:
Low
Dirty Orgasm Price:
Priced by Size
Dirty Orgasm - How to Order:
Ask if they know how to make the Dirty Orgasm Smoothie. If not, show them the Secret Recipe from this page and they will be happy to make it for you!
*Not all items shown are available or authorized at every restaurant. Price and participation may vary.
Jamba Juice Dirty Orgasm
This is one of the fresh and fruity smoothies from the Jamba Juice Secret Menu. The Jamba Juice "Dirty Orgasm" Smoothie is a blast of Peach, Pineapple, Orange, and Strawberry flavor. The blended fruit and sherbert really take this smoothie to a whole different level. The Dirty Orgasm Smoothie is incredible, there's not much more we can say about it. If you are looking for something a little sweeter and more like a dessert, then this is the smoothie that you want. However, it may be a little awkward ording it with a name like that, but it's worth the risk.
Complete List of

Jamba Juice

Secret Menu Items
---