Gummy Bear (White) | Jamba Juice Secret Menu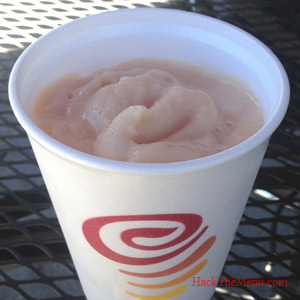 Availability:
All Locations
The Secret:
6 oz. Peach Juice
4 oz. Soy Milk
1 Scoop Lime Sherbet
1 Scoop Rasppberry Sherbet
1 Scoop Pineapple Sherbet
1 Scoop Orange Sherbet
1 Scoop of Strawberries
Ice
Popularity:
High
Gummy Bear (White) Price:
Priced by Size
Gummy Bear (White) - How to Order:
Ask if they know how to make the White Gummy Bear Smoothie. If not, show them the Secret Recipe from this page and they will be happy to make it for you!
*Not all items shown are available or authorized at every restaurant. Price and participation may vary.
Jamba Juice Gummy Bear (White)
The Jamba Juice "White Gummy Bear" Smoothie is one of our favorite candy-flavored smoothies from the Jamba Juice Secret Menu. The Gummy Bear Smoothies are sweeter than the standard smoothies since it utilizes juice, milk & multiple fruits and sherberts along with the addition of gummy candy. The blended fruits and sherbert really make these smoothies taste like their gummy bear counterparts. The White Gummy Bear Smoothie is a sweet drink, they tried to make a smoothie that tastes like a white gummy bear. If you are looking for something a little sweeter and more like a dessert, and the white gummy bears are your color of choice, then this is the smoothie that you want.
Complete List of

Jamba Juice

Secret Menu Items
---