Sunny Delight | Jamba Juice Secret Menu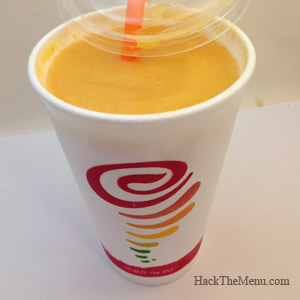 Availability:
All Locations
The Secret:
6 oz. Orange Juice
4 oz. Lemonade
2 Scoops Orange Sherbet
2 Scoops Lime Sherbet
Ice
Popularity:
Medium-High
Sunny Delight Price:
Priced by Size
Sunny Delight - How to Order:
Ask if they know how to make the Sunny Delight Smoothie. If not, show them the Secret Recipe from this page and they will be happy to make it for you!
*Not all items shown are available or authorized at every restaurant. Price and participation may vary.
Jamba Juice Sunny Delight
This smoothie sure is a great thing to wake up to in the morning. The Jamba Juice "Sunny Delight" smoothie off of their Secret Menu will open your eyes to a bright and welcoming day. The recipe for this secret Menu item includes orange juice, lemonade, and orange and lime sherbet- take note that this smoothie is definitely categorized on the sour side! If your taste buds want a wake-up call, then this is the drink for you. This smoothie is an upgrade from a dull glass of orange juice in the morning, spice up your routine and substitute the Jamba Juice Sunny Delight smoothie for a brighter day.
Complete List of

Jamba Juice

Secret Menu Items
---