Cinnamon Melt a la Mode | McDonalds Secret Menu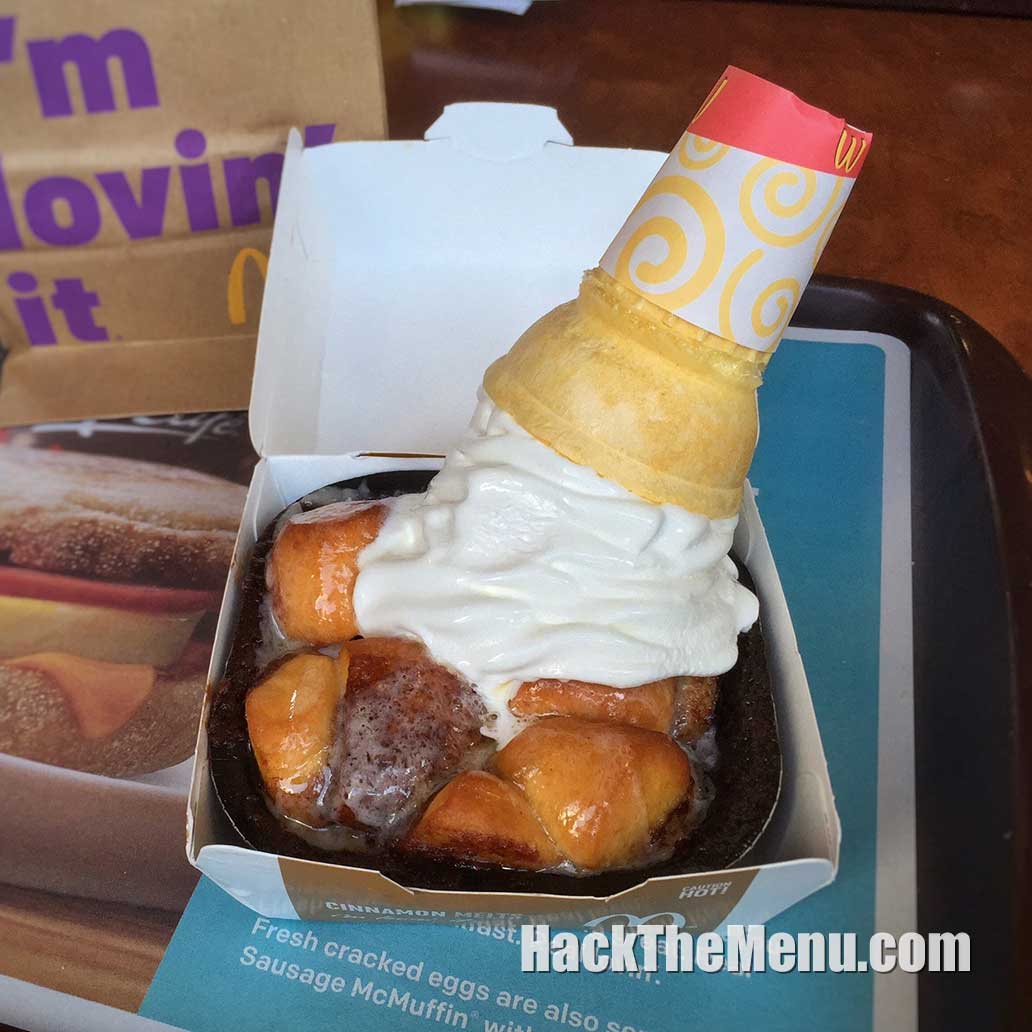 | | |
| --- | --- |
| Availability: | Most Locations |
| The Secret: | Add McDonalds' delicious low-fat soft serve vanilla ice cream to their gooey Cinnamon Melts. |
| Popularity: | Medium |
| Cinnamon Melt a la Mode Price: | $2.99 |
| Cinnamon Melt a la Mode - How to Order: | Order Cinnamon melts and ask for a serving of ice cream on top. If you actually enjoy the crispy cone like we do, you can just order them separately and add as much of the ice cream as you see fit (all of it, duh). |
*Not all items shown are available or authorized at every restaurant. Price and participation may vary.
McDonalds Cinnamon Melt a la Mode
Gooey goodness to the extreme - that's the best way to describe this secret menu brunch dessert creation ordered from the new McDonalds All Day Breakfast Menu. We ordered a soft serve cone from the regular McDonalds dessert menu and then placed it on top of the new Cinnamon Melts ordered from the McDonalds All Day Breakfast Menu. The Cinnamon Melts are soft, chewy and warm sweets on their own, but when the creamy soft serve is added you've got a flavor combination to fill every craving of your sweet tooth in each gooey bite!
We could have just asked them to add soft serve to the Cinnamon Melts box (the server said we could) but we wanted to be sure that all the soft ice cream would fit into the serving container... plus we get an added crunch to the dish with the cone on top. Adding soft serve vanilla ice cream to the Cinnamon Melts will set you back about a dollar, but it will transform your Cinnamon Melt all day breakfast order at McDonalds. That's a buck well spent if ultra hot/cold creamy cinnamon sweetness is your goal. One word of warning though: this McDonalds All Day Breakfast Menu Hack could be enough to overload the sweetness tolerance of your stomach. This might be a secret menu item that you need to share with your date!
Complete List of

McDonalds

Secret Menu Items
---